Online Personal Training Qualification
Our Sports Science Institute of South Africa (SSISA) online Certificate in Personal Training is a full qualification that equips you to enter the fitness industry with the confidence, knowledge, and skills required to offer professional services to meet the needs and expectations of a range of individuals and groups.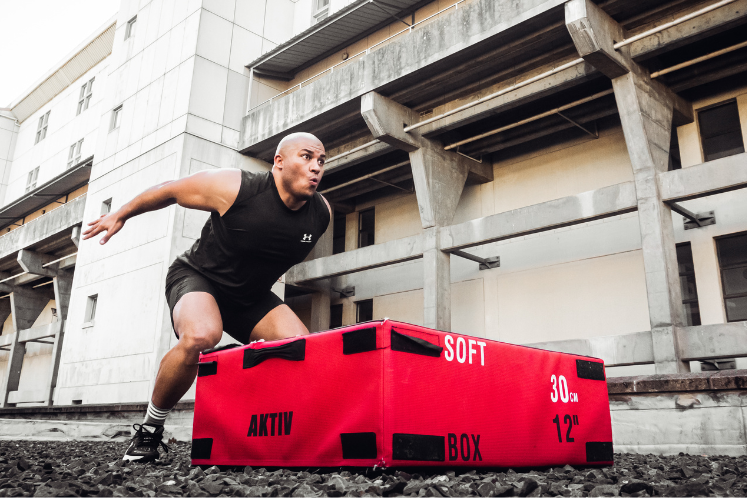 Industry Leaders
Our internationally recognised qualification will give you the knowledge and know-how to assess the health and fitness levels of individuals; design, demonstrate, and implement exercise programmes as well as assess, evaluate, monitor, and modify training plans.

Study online through SSISA today. We are recognised experts who can assist you to transform your career aspirations into reality.
Our online personal training qualification, accredited by the Register of Exercise Professionals in South Africa (REPSSA) is designed into five study blocks. A student must complete a study block fully, be up to date with course fees and meet all the submission and assessment requirements BEFORE they are able to move on to the next study block. A learner will enter a study block on a stipulated date and exit the study block when all conditions are met. Study blocks must be completed in a pre-defined order (1, 2, 3, 4, 5).
All learning materials, resources, and assessments will be available through a Learner Management System (LMS) and the student will conduct all learning activities through the LMS. This qualification has a practical component. Students will be required to submit videos of their own demonstrations for assessment.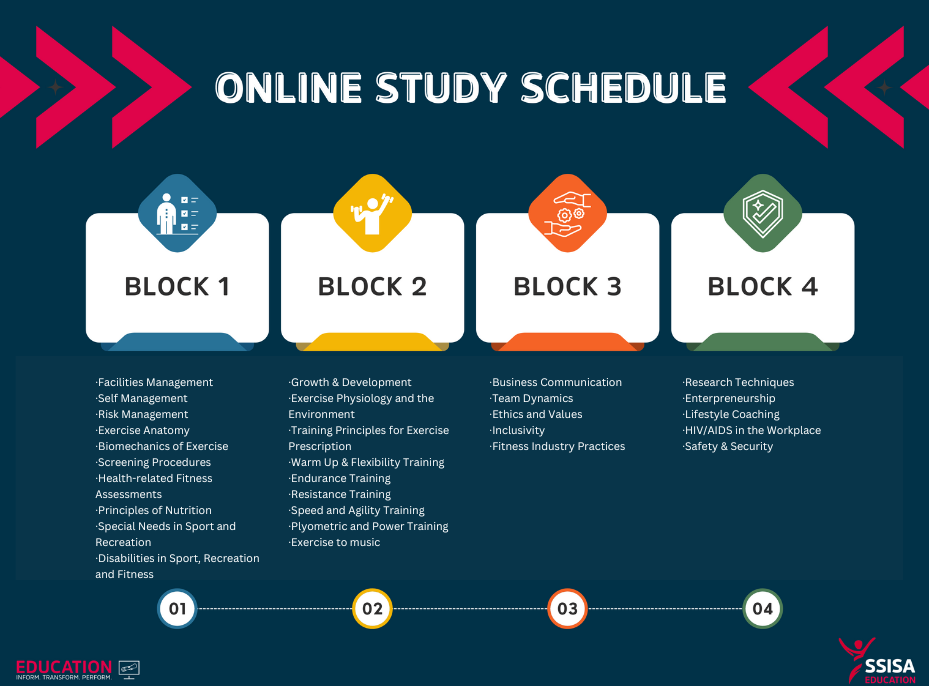 Grade 12 school certificate (National Senior Certificate/Matric)

OR

GCSE (General Certificate of Secondary Education)

OR

Similar school leaver certificate or Level 4 equivalent on the NQF (National Qualifications Framework)
Data
- Stable internet connection, minimum 2MB/sec data connection.

Device
– Recommend at least a tablet or computer. Smartphones are acceptable for viewing information but you will not be able to complete your assessments using your Smartphone.

Software
– Moodle mobile app for offline usage.
– Latest version of Chrome, Firefox, or Microsoft Edge.
Personal fitness trainers
Fitness facilities manager
Floor supervisor
Group fitness instructor
Health and wellness coach
Physical educator
Fitness club owner/operator
Fitness centres, gyms or health clubs
Corporate fitness facilities
Sports clubs
Schools
Community centres
Holiday camps
Hotels
Spas
Cruise liners
Option 1. Debit Order - R16 500
(Includes R3990 deposit and R1251 x10 months)

OR

Option 2. Upfront Cash Payment - R15 500
(Pay before 31 October and get the early bird special for only R14 000)
This qualification will take a minimum of 10 months to complete. Click here for an overview of the qualification outline, the assessment plan, and the suggested pacing document.
FIND OUT MORE ABOUT OUR ONLINE PERSONAL TRAINING QUALIFICATION